Ep 15 — Eline Dragesund on her Kitsch Collection, the History of Clothing and its Relation to Our Psyche
"I feel like it's time to take women a little bit off the fashion-horse", says the tailor who wants to shape men into cathedrals with her new brand, "The Kitsch Collection".
Eline Dragesund is a young designer from Norway whose primary inspiration for clothing is the subculture of Odd Nerdrum's painting school, as well as Ancient Greece.
She despises modern body-shape solutions like zippers and polyester, and prefers classical solutions such as linen, draped around the body.
In recent years, she has worked with men only. "With every man that I've worked with, he comes to me and says: 'I cannot find what I am looking for. Can you help me?'"
As a result of the lack of varied design, she sees the need for "an alternative, elegant clothing style for men."
The guidelines for Dragesund's brand are the same as those for kitsch painters: good handcraft, a toned down palette and a timeless mark.
Starting out with Edvard Munch, she is planning to select one kitsch-person or a theme as a source of inspiration for each collection. But it is not Munch's wardrobe that interests her — rather how he paints it.
For more information about Eline Dragesund's brand, please go to http://dragesund.com.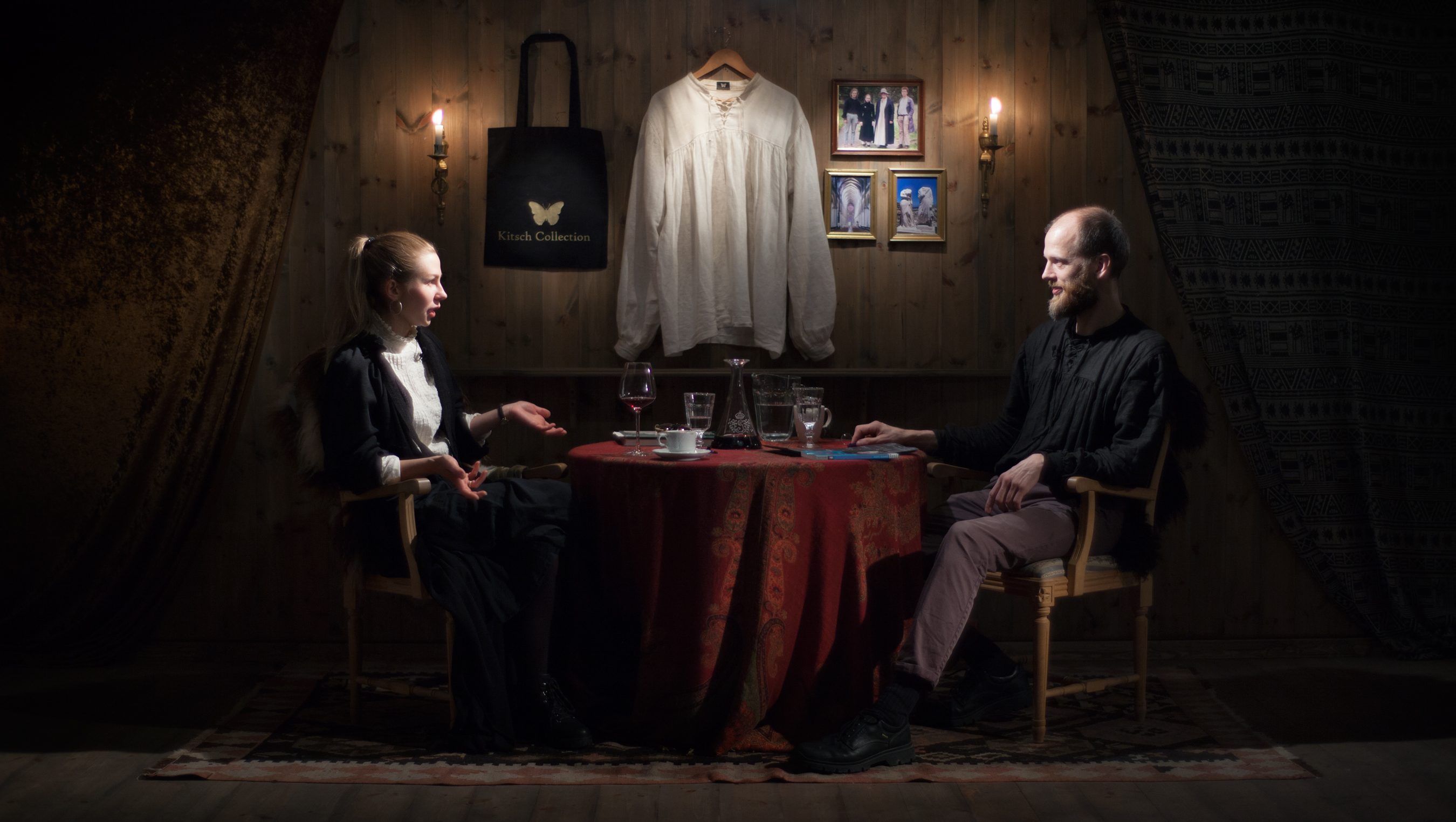 The centerpiece for this conversation was The Nerdrum Shirt by Eline Dragesund and the episode was produced by Bork S. Nerdrum, assisted by Nic Thurman and Javier Adams.
***
EXCLUSIVELY for PATRONS: In the bonus material for this episode, Eline Dragesund shows you how to make painting props. Back in the studio, Jan-Ove Tuv challenges her with personal questions and the Kitsch & Art questionnaire.
Would you like to get previews, bonus material and other benefits? Become a patron:
https://patreon.com/caveofapelles/
***
Podcast available on SoundCloud, iTunes, and Spotify:
https://soundcloud.com/caveofapelles
https://spoti.fi/2AVDkcT
https://apple.co/2QAcXD6
Visit our facebook page:
https://www.facebook.com/caveofapelles
For inquiries — talk@caveofapelles.com